Facebook, Instagram and More for Business Cards: Tips & Advice
Posted on 13 July 2022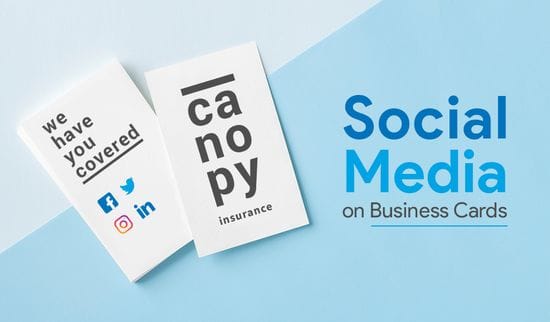 How to add social media to business cards
Adding Instagram
You can easily add your Instagram handle to your business cards with a creative flair. When doing so, make sure readers know exactly what it's for and include several ways to access it like:
Your handle (use the "@" symbol)

The Instagram logo

A URL link in case they don't have the app

A scannable QR code to link to your Instagram account
Adding Instagram is a great idea for businesses to promote another communication channel. You can create a small gallery of your products and your latest promotions.
Design & print a business card with Instagram on it.
Adding Facebook to your business cards
Facebook is at the heart of marketing strategies for small businesses starting out and big businesses that have been around since before computers.
This is why adding Facebook to your business cards is such a valuable idea. It doesn't take much space and you can add something as simple as a logo. But, similar to adding Instagram, you may want to include:
A URL link (try and keep it short)

Your direct handle (to make it easier to search for you)

The Facebook logo (Or text)

A scannable QR code to link to your Facebook page
Design & print a business card with Facebook on it.
Creative ways to add social media to your business card
QR Codes
QR codes are everywhere because they're so easy to use. A QR code can take the reader to any URL online, including your social media channel.
It will make it substantially easier for readers to access your Facebook and Instagram accounts because they won't need the extra steps of launching the app and searching for you. There's also no chance of them opening the wrong page and following a competitor instead of you.
Use colour
Unless you're going for a minimalistic design, colour in your social media links helps highlight your pages.
You can use the original social media channel's design like Instagram's hot purples, reds, yellows and pinks, or Facebook's cool blues and whites. Or, you could use colours similar to those you've chosen for your custom design.
Incorporate it into the design or imagery
As suggested above, using colour is a great way to highlight your extra social media promotion on your printed products.
But, if you've got a more unique design or shape of business card, it isn't as straightforward as planting it in the centre of your business card.
Fortunately, though, this is an opportunity to get more creative. You can incorporate the logos, URLs and handles into the design of your choice.
Add your URL or handle
We all know the logos of Facebook, Instagram and others, but we don't know the handle a business or individual is using.
So, to make it a bit easier for the reader, include your handle or the end of the URL.
Include a call to action
While implied, your call to action might be just the necessary step to encourage readers to look you up or follow your social media accounts.
Some examples of great calls to action to include on your business card are:
"Don't forget to follow our socials"

"Check out our latest"

"See what else we've been up to"
Add incentive
If well-written copy and calls to action aren't your things, you can lure your readers in with a little incentive.
Some examples of incentives to include on your business card include:
"For special offers and more, follow our socials"

"Find a coupon code for your next order on our socials"
Should you add social media to business cards
Benefits of adding extra contact information
Adding other methods of communication is beneficial for many reasons including:
It's an extra way to contact you in case customers don't like calling

It's an opportunity to update extra promotions through social media

It's another way to share your wide range of products and update them
As you can easily update your social media feeds, you won't need to reprint or redesign your business cards. It's a cost-effective and more sustainable way to use business cards for your marketing.
There are 4 more reasons to add social media to your business cards and other tips to create your own designs.
What to avoid on your business cards
There are lots of points to consider when designing your own business cards and having them printed like:
Design choice and colours

Size and shape
The main thing to avoid is overcomplicating the reader with unnecessary images and information. Business cards should be simple, easy to read and unique.
You can find more tips in the Snap New Zealand custom printed business card guide.
Where to add your social media handles on business cards
Best places to put social media on business cards
On the back of the card
Simple and effective, putting your social media and contact information on the back of your business card leaves plenty of room for graphic designs, imagery, and your logo on the front of the card.
In the bottom left or right corner
Away from your name or business name and logos or imagery, the bottom left or right corner of your business card is free real estate and a great place to add the extras like your social media channels or alternative contact methods.
In the middle as a centrepiece
Most contact information on business cards is kept away from the centre, but for many small businesses, social media is the centre of their presence as they don't have a physical shopfront.
In this case, it's an opportunity to stand out and put your social media channels front and centre at the heart of your business card design.
Don't put it too close to bleed lines
When adding social media handles and contact information to business cards, you usually want to keep them on the back or towards a corner. But, you should be cautious when adding items to custom-printed cards (and posters) because of bleed lines.
Anything outside of bleed lines won't be included in your final product or will be distorted.
Instead, try sticking logos and contact information towards a corner or on the backside of the business card.
Printing your own business cards
Printing your own custom designs is simple with Snap New Zealand. We can help with business card design or other promotional material such as banners, posters, brochures and flyers.
Check out some of our services on the website, or contact us to find a local centre near you and start printing your own business cards.
And for a thoughtful free quote, request an online price breakdown for business card printing, or call your local printing centre.