3 Types of Paper and Which to Use for Your Custom Printing
Posted on 15 February 2022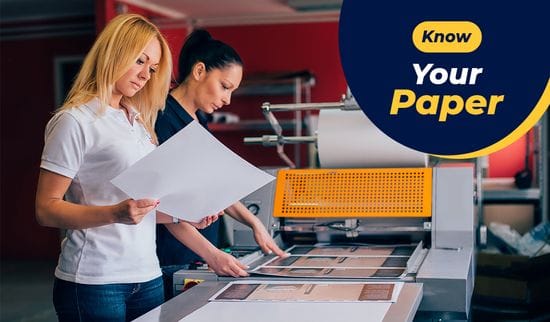 Paper is easy, but it's also hard.
Choosing the right type of paper for your printed material like posters, business cards, and cards is crucial to a successful finished product– business-related or for personal use.
Types of paper for custom printing and what the weights of paper mean
You might know that there are different types of paper other than cardboard and white sheets. But whether it's for your business or personal use, you should learn the basics of custom printing.
Choosing a suitable weight of paper, or GSM, for custom printing:
GSM is an acronym that stands for Grams per Square Meter. It's a term of measurement for paper and cardboard that describes the heaviness or thickness of a sheet.
The following GSM weights are the most common and are the best options for different printing jobs.
80-110 GSM:
80-110 GSM is the most common weight for general purpose printing because it's cost-effective.
80-110 GSM is a standard weight paper and isn't famous for creating an impact because it's too thin to support a lot of colours.
Typically, you would use this paper type for letterheads, reports, and home printing.
120-210 GSM:
120-210 GSM is the most widely used paper weight for brochures and presentations.
Because 120-210 GSM is heavier than 80-110, you can use it for double-sided printing with little show-through.
250-300+ GSM:
250-300+ GSM is closer to cardboard than typical paper and is popular for business cards and invitations. The lighter end is also a popular weight for custom poster printing.
250-300+GSM custom printed paper is unlikely to tear or see much general wear from ageing compared to lighter weights. It can also hold the most colour out of the three weight classes listed.
Type of paper: Coated or uncoated paper for custom-printing
After picking your paperweight, you might feel like you're in the deep end of paper finishes (of which there are hundreds).
There are two primary types of finishes for custom printing paper:
Uncoated:
Uncoated paper stock will be presented as it's printed. Uncoated finishing on custom-printed material is cost-effective but isn't likely to impress any holders or readers.
Coated:
Coated paper stock is as the name suggests. Coated custom-printed material is more customisable and can be coated in a finish that will feel more textural and look great.
Many clients choose to coat their custom printing to increase the impact of their promotional material and extend its life as well.
Did this help?
Printing can be a significant investment, and you should always seek expert advice before putting your money into it.
When choosing the right printing option, take your time, and remember your budget and price differences between papers.
Contact or Find a Snap Centre near you for a recommendation for your printing job and a free, thoughtful quote.
Now that you're a paper expert, what are you waiting for? Snap centres across New Zealand, from Tamaki to Auckland, are ready to help you with your custom printing and paper needs.