4 Reasons To Add Social Media To Your Business Cards
Posted on 18 January 2021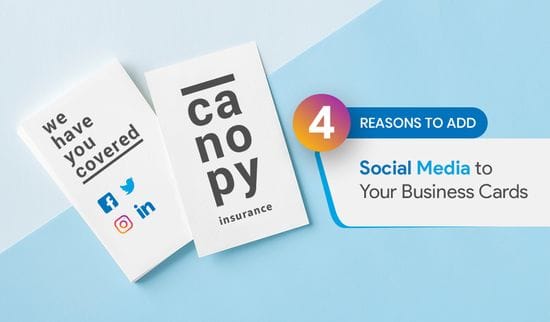 Social media has rapidly become an important part of any marketing strategy. Regardless of the size of the business, these platforms are effective ways of communicating with your current customer base and increasing your audience reach. With the explosive growth of social media over recent years, the traditional business card has seen some changes.
In order to align with modern networking, the business card now often features a business or individuals social media handles.
Here are the top 4 reasons to add social media to your business cards:
1. Personifies your business
Social media is a great way to add more personality to your business during the exposure and brand awareness stage. Instead of just reading about your business, customers can gain a deeper insight into how your business expresses itself, how you interact with your audience and what sort of social following you currently have.
To make it easier on your audience and yourself, try keeping the same social media handles across any platforms you decide to use so they can find and follow you on multiple channels.
2. Expand your brand awareness
Adding your social media handles to business cards doesn't just serve as a reminder to your audience of places they can go to learn more about you - it also serves as additional ways they can engage with you.
When an individual likes, shares or engages with your content or page in any manner, it increases the opportunity that other people will also see this content. As you hand out your business card, it opens your social channels to further engagement. The more engagement you have on your channels, the greater chance your brand awareness will spread further.
3. Improve trust and credibility
Social media has become an effective way of building a foundation of credibility and trustworthiness online. Consider that your social media channels might be one of the first instances others have to get to know you and your business on a deeper level than the (most likely) brief introduction in which you handed over your business card - it's a great way to show off personality and what you have to offer. Several social media platforms allow for reviews to be provided by customers, which helps the prospective audience feel an increased level of trust towards your business.
4. Alternative advertising method
Social media has a range of benefits with the most prominent including spreading brand awareness and engaging a broader audience. Each time you create a post and it receives a "like" or "share", it works towards improving your online reputation and recognition. All of this works towards advertising your business and what you have to offer potential customers.
How can you add social media to your business cards?
With so many elements already competing for the limited space on your business card, it's important that it's well designed with an effective layout. Consider selecting just a few of your most active social media channels or ones that you feel represent you or your business best. Social media icons are also highly recognisable and can grab attention immediately - ask your designer about including them on your customised business card.
Remember, one of the most important aspects of your business card is ensuring that it's well designed, clear to read and makes an unforgettable first impression. If you're wanting to really make a mark, consider having a professional design and print your business cards.
Experience the difference our personalised business card services can make for you, whether it's for a special occasion or for growing your business, we can help you succeed - contact the team at your local Snap New Zealand.