Custom Poster Printing Tips & Advice
Posted on 16 August 2022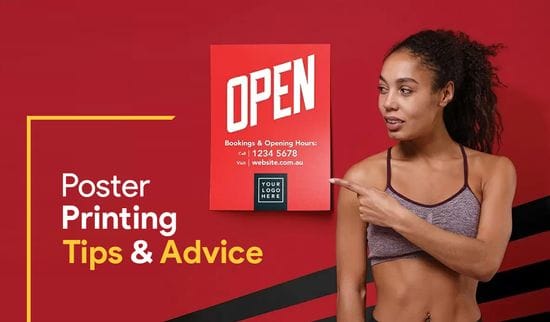 What is a poster?
What are posters used for? Are they still worth printing?
The primary purpose of a poster is to capture the attention of a passerby and convey a message. For example, a poster may be used to:
advertise a product

give directions to people at events
What are the types of posters?
The most commonly used posters include:
Advertising posters

Campaign and political posters

Event posters

Movie posters

Educational posters

Social posters

Corporate posters
Though, these types of posters aren't exclusive. For example, a movie poster could also be a poster for advertising purposes with the intent to sell tickets.
And similarly, a campaign or political poster can also be educational if it were to save water or to promote an upcoming event like earth day.
What should be on a poster: things you should include
Depending on the purpose of the poster, you might want to fill it with different features. The most effective posters will include:
a simple, easy-to-read layout

a clear call to action

art and design similar to the message or brand voice

contact information or directions to learn more
Key benefits of posters
Posters have been used in New Zealand for many years, and it's likely they will be used by individuals and businesses for many more years to come. That's because poster printing has many benefits like:
posters are recyclable

posters are a cost-effective way to spread brand awareness

they're easy to digitally print

they can be landscape or portrait

posters allow people to get creative and have fun
How do you design and print your own custom poster?
Choose the weight of paper
Paper weight is measured in Grams per Square Meter (GSM), and depending on the type of printing service you're considering, it might be worth reading 3 Types of Paper and Which to Use for Your Custom Printing.
Depending on the weight of paper you choose, many standard printers can handle small-scale printing (between 1-15 copies). But, heavier paper weights and bulk printing jobs are better suited to industrial printers and professional printing services.
The most commonly used weight of paper for posters include:
120-170 gsm: A cost-effective, light poster option. It's heavier than many papers but it's usually better suited for smaller printing services like flyers, take-away menus, and brochures.

200- 300 gsm: This is the ideal weight for poster printing as it's cost-effective and thick enough to withstand the average elements and weather conditions of New Zealand. It's also the ideal weight to be placed into a frame as it's still slightly flexible and won't show waves or bends.

300 - 400 gsm: A poster of this weight is sturdy, but won't have as much flexibility as 200 - 300 gsm. Being thicker and heavier, this weight of paper is typically used for posters and other printed products that might need to withstand travel like street hand-outs or cards and invitations
Choose the poster size (poster size conversion chart)
The most common sizes of posters range from a0 to a4 (and custom). Anything smaller would be difficult to capture the attention of passers-by.
If you have a frame or specific measurement in mind, here is a quick poster conversion chart:
Poster Paper Size Conversion Chart

| Paper Size | Inches | Millimetres (mm) |
| --- | --- | --- |
| A0 | 33.125 x 46.8125 in | 841 x 1189mm |
| A1 | 23.375 x 33.125 in | 594 x 841mm |
| A2 | 16.5 x 23.375 in | 420 x 594mm |
| A3 | 11.75 x 16.5 in | 297 x 420mm |
| A4 | 8.25 x 11.75 in | 210 x 297mm |
| 2A0 | 46.8 x 66.2 in | 1189 x 1682mm |
| D | 24 x 36 in | 558.8 x 863.6mm |
For a price on your chosen size and paper weight, request a quote on your poster printing service.
And for custom-sized poster printing, find a centre near you or contact us for a quote.
Find a local poster printing service
Snap New Zealand has locations across the country to help local businesses and individuals with their poster printing needs (as well as many more promotional printing services like brochures & flyers, stickers & labels, banners, signage, and more).
To print your own poster using your own design, or with the help of our design team, find a centre near you.
Or, request a quote from a member of our friendly online team and we will get back to you as soon as we can.