Custom-Printed Stickers vs. Labels - The Big Differences
Posted on 15 December 2021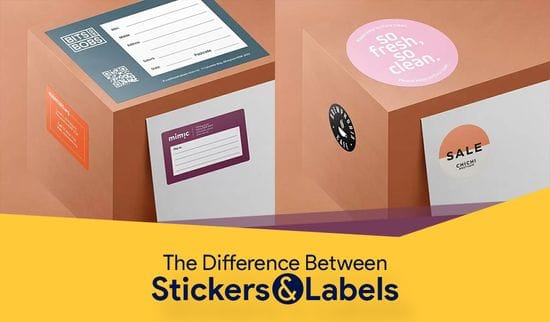 It's not uncommon for people to confuse stickers and labels. But, they both serve completely different purposes, and using the wrong product could be costly.
Stickers and labels are similar but they're different
You can't blame yourself for getting the two confused.
After all, both stickers and labels are:
Sticky

Made of durable vinyl or film material

Printed using similar equipment
But beyond that, they're quite different because they're used for different purposes. Custom-printed stickers and labels can also come in wildly different shapes and sizes.
Custom-printed labels, what are they?
Unlike stickers, labels are used to identify products or objects.
For example, you could use a label to identify:
Ownership of product

The date a product was made

A product origin
Labels are often printed using either paper or film materials, and most of the time, the materials are thin and easy to peel off.
The two common formats for labels are sheet and roll labels.
Sheet labels are best suited to smallscale operations like custom-printed labels for handmade goods or small businesses.
Roll labels are best suited to largescale operations where large quantities of products need to be labelled.
For custom-printed label prices, take a look at our label printing services.
The ins and outs of custom-printed stickers
Custom-printed stickers are one of the most popular marketing tools used by small, medium, and large businesses, and have been for a long time.
Custom-printed stickers are used to:
Promote a brand (sports teams, businesses, bands)

Promote a product

Encourage action
Custom-printed stickers are meant to be passed on and shared, so you won't always know where they might end up.
Depending on your brand or product, some people will use your stickers to decorate their laptops, skateboards, car windows, or notebooks.
Because of that, custom-printed stickers are a fantastic and affordable way to market your small, medium, or large business.
If you're wondering how much it costs to order custom-printed stickers, contact us for prices or take a look at our label and sticker printing service.
What are custom-printed stickers made from?
Because stickers are exposed to harsher environments than labels and are made to be stuck to just about any surface, they're made from more durable materials.
Most custom-printed stickers are made from either film or vinyl material with a laminate or UV varnish to protect them from exposure to sunlight, water, and scuffing/scratching.
Are labels or stickers cheaper to print?
Both stickers and labels cost similar prices depending on the printing company and the size of the job. Apart from the variables and differences mentioned above, the number of stickers or labels will usually affect the price.
Printing companies often have offset and digital printing options, and depending on the task, it may work cheaper to use either. Learn the differences between offset and digital printing or find a centre near you for an accurate quote.
How to custom-print your own stickers or labels
You can easily customise your own stickers or labels and have them printed at a local Snap Centre in New Zealand.
Snap New Zealand can help you design and print your custom stickers or labels for both business and personal use.
Simply provide us with your desired image and information and Snap can do the rest. Reach out for affordable custom sticker and label printing, and find out prices for custom printed stickers by contacting us or requesting a quote online.
Or if you want to talk in person, find a local Snap centre in New Zealand for custom sticker and label printing in Auckland, North Harbour, Newtown, Downtown, or East Tamaki. See our full list of locations.