Why You Need Customised Stationery
Posted on 22 March 2021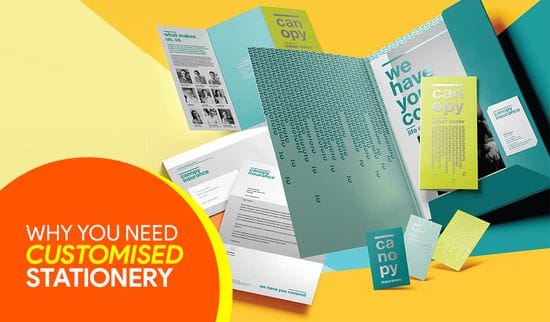 Have you ever considered the power of customised stationery for your business?
Customised stationery isn't just for your staff to use nor is it just your official letterhead - custom stationery comes in all different products with benefits that help reach and entice potential customers.
For smaller businesses especially, it sends an important message to existing and prospective customers.
1) Establish trust and authority
Customised stationery gives your business a professional edge. Customised letterheads particularly translate messages with a more official look, conveying authority and legitimacy.
Whenever you put a message out there, you're also sending it out bearing your brand, name and logo, it helps potential and current customers understand that the message is being communicated on behalf of the company.
Instead of using the same old products you've always used, using a printing service to make subtle tweaks to your design, inks or finishes which will have an overall effect on how your brand is perceived.
2) Furthers your branding
Branding takes time and effort to make its mark - with customised stationery, you can ensure your promoting your branding at every point of contact with customers or clients. The design of your logo, your colours, the font of your company will all be utilised across various products, playing an essential role in building your brand identity.
Customised stationery also holds a longer shelf life, keeping your customers thinking about you years later.
3) Networking opportunities
When attending expos, business conferences or any events where you go to improve your reach, branded stationery is a great addition to your presence. Not only can you provide a tangible gift alongside your business card, your gift can be branded so you can build your network by keeping yourself at the forefront of new customers' minds. It's also a fantastic way to make a memorable first impression.
It's also a more effective way of standing out amongst any competitor information those potential clients may have.
With all this being said, don't forget to include the essential contact information including name, number, email and website where fitting.
4) Professional image
One of the overall effects of customised stationery, an effect that bleeds into those previously mentioned, is creating a more professional image. It's one of the primary objectives in getting customised stationery for your business, helping to build credibility and legitimacy - all of which is particularly important if you're a small or new business.
What customised stationery can you get for your business?
Paper finishes
Pens
USB's
Notepads
Invoice & receipt books
Name badges
Invitations
Stickers & labels
Christmas cards
Direct mail marketing
Brochures & flyers
& more!
With Snap NZ, you can create unique, professional products to help your business stand out from the crowd. Complete with our graphic design service
Experience the difference our printing services can make for you, whether it's for a special occasion or for growing your business, we can help you succeed - contact the team at your local Snap New Zealand.