What Is Hyperlocal Print Marketing?
Posted on 16 November 2020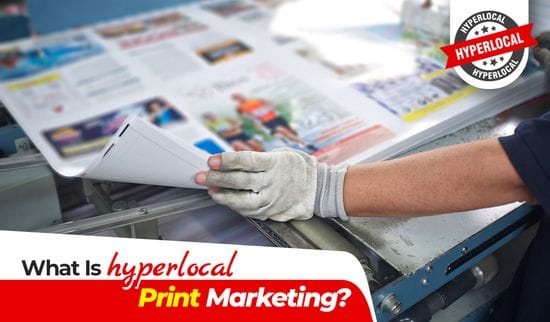 With the continuous growth of modern technology and digital marketing, it's easier than ever to reach global audiences through the internet. However, not all businesses benefit from these types of marketing tactics in the same way as other businesses.
If you're a localised business, particularly if you're a brick and mortar business, it can be useful to consider targeting those directly in your community. One of the more effective ways to do so is through traditional forms of advertising and marketing.
What is hyperlocal marketing?
Hyperlocal marketing refers to targeting people or communities that exist within a well-defined area. This could be a suburb or town with the objective of driving local customers, especially through foot traffic, to nearby businesses.
These types of campaigns generally promote products or services that exist within the consumers immediate environment and have the potential to be more memorable to the consumer.
What are the types of hyperlocal print marketing?
1. Personalised direct mail
Direct mail campaigns are a great marketing tactic, however, personalising your direct mail rather than sending out a generic marketing message can positively influence the response you receive from clients.
2. Local advertising
Local print advertisements often see good results from the small yet loyal target audiences. Once you have specified which local print publications suit your needs the best, you can create an ad that speaks to readers on a more relatable level.
3. Business partnerships
Developing strong relationships and partnerships with a local business is a great networking opportunity. If these local businesses already have ties with your target audience, it's an effective way of generating exposure for your brand and building your credibility. There's also cost benefits involved with co-producing branded signage or campaign materials.
What are the benefits of hyperlocal print marketing?
Digital marketing is effective for local markets, however, traditional forms of marketing still have benefits, many of which aren't being tapped into by modern businesses. Print utilises advertising that exists outside the home and phone. Most often these exist in public places . Common examples of effective hyperlocal print marketing are billboards or posters, or smaller flyers that end up in letterboxes and local publications.
The benefits can involve:
Promoting products and services that are available in the consumers immediate environment for the consumer.
Eye-catching and attention grabbing.
Drive foot traffic
Easier for the audience to remember
How can hyperlocal print marketing work for businesses?
To succeed with hyperlocal marketing, you have to think like a local and consider the culture of those you're targeting. This means considering the values and needs of the community and creating personalised campaigns based on these insights. Your campaigns could even address or make reference to seasonal local events such as farmers markets, school events, sporting events etc.
Depending on your business, developing a marketing strategy that focuses on hyperlocal tactics can be more beneficial than casting a wider net through digital marketing.
Experience the power of targeting local and growing your business through hyperlocal marketing today - contact the team at your local Snap centre today.