4 Simple Steps to Creating the Perfect Small Business Brochure
Posted on 16 June 2022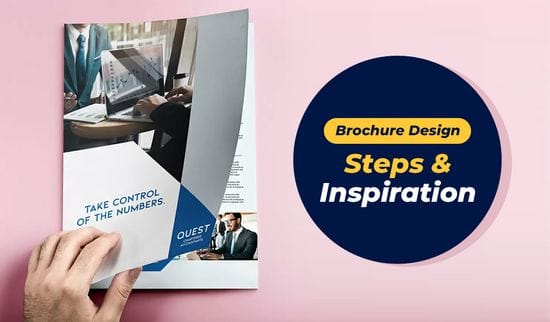 What is a brochure meant for?
A brochure is an informational pamphlet or short advertisement for organisations and businesses to advertise their event, products, or services. They're a great way to sum up information in a short and digestible format that's both easy to hold and store for future use.
What is in a brochure?
Because brochures are folded and limited in space, a well-designed brochure will typically include a short summary of information that is promotional in nature. The summary will include references to your business's products or services with the intention of explaining them and selling them to readers.
The most effective brochures typically include:
Pictures and imagery
Brand identification (business name and logo)
Written information and descriptions
Contact information
1. Images
Flyers and brochures are used to showcase your business and photos are one of the most important ways to do that. The following pictures are must-haves for your next brochure design:
Examples of your goods or services

Pictures of your team and staff

Your location (office or surrounding area)

Ideas for how to use your product or service
2. Your business name and logo design
In the hands of the viewer, your flyer is one of the most cost-effective marketing tools. But without your name and logo, you're only advertising your product or service. And while that's great, your viewers won't know who's responsible for the fantastic offers.
On a brochure, your business name and logo should be prominently displayed on either the first or second page so you can adequately display your products and services while advertising your brand too.
Logo design is a skill in itself. If you're considering a new logo design or refresh, contact us for a quote on an affordable, refreshing logo.
3. Copy
Copy is the word used to describe words with intent to sell goods or services. You should fill your flyer with well-written copy to gently highlight your business's best features, and to set yourselves apart from your competition.
The text in your brochure should cover the following points:
Who you are: In this section, you will tell readers about your business and your team. You will highlight your best features, whether that be customer service, sustainability, or that your products are locally-made.
About your product or service: Similar to the previous section, this part will talk more specifically about what you're selling instead of who is selling it. You will highlight why readers should invest in the product and how it will make their lives better.
Contact details: As well as your logo and company name, your contact information will help readers easily find and contact you to start their transactions or learn more about them.
4. Extras:
If you're planning on using a folder flyer, you can sneak in additional merchandise or details to advertise your business like business cards and stickers.
And, if your brochure is part of a larger advertising campaign, you can include printed posters and banners in your business location to help relate the campaign to your company branding.
Stickers are a great way to market your brand or business, and business cards can be used in so many different ways. Both of these items can help your brochuresstand out from the rest.
How to create your own personalised brochure in 4 quick steps
1. Choose a flyer type:
The two most commonly used types of brochures in New Zealand are bi-fold and tri-fold. Depending on the content you want to fill it with, you will be able to choose between the two.
If you're planning on including more words and detailed information about your goods and services, you might prefer to use a tri-fold as you have more space for text.
Oppositely, if you're a fan of large and exciting imagery, a bi-fold might be better suited for your needs as you can feature pictures more prominently.
2. Pick a size:
Now that you've decided on a personalised bi-fold or tri-fold flyer design, you'll want to consider its size.
In New Zealand, the most common sizes for brochure and flyer printing are A5 and A4 (148 x 210 mm and 210 x 297 mm). But, there are alternative options for more personalised designs.
Both are great options and neither size brochure will limit your design or customisation options. The pictures and text will simply be bigger or smaller. What you do have to consider, though, is how easy it will be for your audience to hold, read, and travel with your flyer.
3. Choose a material and a finish
With your selection of a bi-fold or tri-fold brochure of an A5 or A4 size, you'll be ready to select the material you'd like your brochure or flyer to be printed on.
With the right printing provider, you can choose from a wide range of paper and card weights to suit your needs. And, if you'd like to add an additional dimension to your flyer, you can have it laminated or printed onto a glossy paper finish.
4. Request a fast turnaround quote from a local New Zealand Printing Centre
Creating your own brochure for your New Zealand business is easily done when working with another business based just around the corner.
Snap has printing services across the country from Auckland, Newton, North Harbour and East Tamaki.
Make a few quick notes on your favourite choices for your personalised flyer design, and find a centre near you. We can help you create, design, and print your next brochure.
Find a centre near you to call or contact online, or request your free online quote now.