7 Personalised Gift Ideas For This Christmas
Posted on 12 November 2021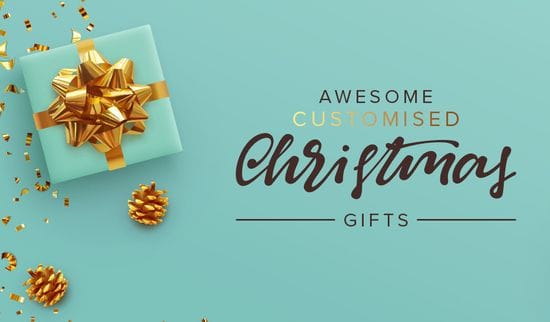 There are megastores across New Zealand selling cheap knick-knacks and Christmas gifts. But we both know that those knick-knacks and gifts are flimsy and impersonal.
Get the gift that shows you care with a personal touch.
1. Personalised Calendars
Yes, calendars can be a cliché gift… but that stigma is generally there because of generic calendar designs that are just plain and boring.
Oppositely though, a custom-designed or personalised calendar is a great way to show the person you're gifting that you know them and care about their interests.
Here are some ideas to get you started:
A calendar centred around their hobbies like fishing or cooking

A calendar of their favourite animal

A calendar of your favourite memories together (maybe put a picture of you on your birthday month so they can celebrate you for the whole month!)
And because it's a personalised, custom-printed calendar, you can throw in pictures you've taken yourselves. How cool is that?
2. Custom stickers
Custom stickers are a great all-rounder sort of gift. It's great for the practical person as well as the decorator who loves being extra.
What you can put on custom stickers:
You can put any sort of pictures or words on customised stickers. That means that they're an awesome gift idea.
You can even use custom stickers to label presents. It's a great way to personalise presents for Christmas, birthdays, or whatever else!
Some things you can put on personalised stickers include:
The gift recipient's name

A picture you've found or taken yourself

A logo or design
Some personalised sticker ideas:
Here are some gift ideas with custom stickers:
Bumper stickers on cars with their name, a picture, or a funny quote of theirs

Book labels

Stationery labels

A personalised label or sticker for their lunchbox or water bottle
3. Custom picture printing
Have a favourite picture of you and your gift recipient? Get it printed!
It's a great personal gift idea that shows how much you care about them. But if you don't want to print a photo of the two of you, there's a heap of other things you could print like:
A picture of their favourite band or musician

A picture of somewhere they love (like a local beach, national park, or even restaurant)

A picture of their pet (who doesn't love their pet enough to have a printed picture of them?)
4. Custom or personalised bookmarks
Is your gift recipient a bit of a bookworm? Use the above idea and print your picture as a bookmark!
With custom bookmarks you can be even more fun and use ideas like:
A line or quote from their favourite book or author

A picture from their favourite book of a character or place
Here's one of our favourite tricks too that we encourage you to use:
When someone uses a bookmark, they keep the top out so they can find their page. You can print a picture so that it looks like someone is peaking out from the top of the pages!
They'll never lose the page that they're up to again!
5. Custom-printed or personalised notepads:
Do you know an over preparer? Someone who makes pros and cons or to-do lists?
Or maybe your gift recipient always forgets things at the shops and has to go back one or two times extra for milk.
Here are some ideas to get printed onto your personalised notepad:
A name or contact information if it gets lost

A picture of their favourite place or hobby

A picture of their pet

A picture of the two of you together
6. Custom stationery
Personalised stationery is a popular gift because it's both thoughtful and practical.
And if you know your gift recipient well, you can make it personal (which is the best type of present).
Custom stationery gift tips:
Choose their favourite colour (ink and the colour of the pen)

Make sure it's the right size

If they're left-handed, make sure it's lefty-friendly
You can print custom stationery easily with the right printing partner and you can put a bunch of cool stuff on there like:
Their name

Their logo or a small picture

A quote or motto that they love
7. Don't forget the card (and the envelope!)
It's 2022, guys. If you haven't already, it's probably a good time to ditch the generic mass-produced Christmas and birthday cards.
Add that personal touch to show how much you care with a personalised custom-printed card. It's the personal touch without the glue and glitter mess.
Some ideas to put on your custom personalised card are:
A picture of a memory you share with them

A picture of a drawing that you've made yourself

A picture of their pet or favourite animal

A picture framing their place or hobby
An extra note on personalised cards in 2022:
The world has been a little disconnected thanks to the recent struggles of Covid-19. If you're in New Zealand and you've got friends living internationally - a custom card adds a personal touch to keep you connected.
Get started below or by reading more about customised Christmas cards and invitation ideas.
Deciding where to print custom stationery, stickers, cards and other gift ideas?
Custom stationery and personalised printing are more accessible than ever before. It's surprisingly affordable if you shop locally too.
For your custom printing and gift needs this year, contact Snap New Zealand. Or learn more about our services by visiting the pages linked above.
You can find your local Snap Centre's contact information, or you can request a quote straight away.
And if you want a personalised experience that we can guarantee, visit a Snap custom printing centre near you. We've got a few across the country and we're always up for a chat.