4 Ways the Print Industry is Becoming More Eco Friendly
Posted on 8 October 2020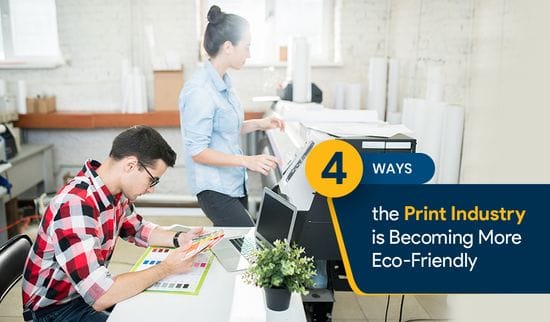 Sustainability is at the forefront of a lot of global conversations, but the print industry isn't necessarily the first industry one would think of. Especially considering the abundance of paper involved. However, there are many steps the industry is taking to join the eco-friendly movement in order to reduce the impact made on the environment.
Here are 4 ways the print industry is becoming more eco-friendly:
1. Using recycled paper
Paper is one of the most commonly used products globally. It's also unique in its versatility and reusability, becoming an indispensable tool in most industries, from packaging to development and of course, the print industry.
Due to the sheer amount of paper required to support all of these industries, the encouragement of using recycled paper makes a significant impact. As printers, using recycled paper fibres instead of new ones, makes a drastic difference to the eco-footprint we leave behind. As one of few resources that are truly renewable, recycled paper leaves a much lower carbon footprint and promotes the use of sustainable forest management.
2. Environmentally friendly inks
Traditional inks often emit volatile organic compounds (VOC) which are not only a hazard to health but a known pollutant of the environment. In contrast, eco-friendly inks are entirely different and growing in popularity within the industry.
There are several substitutes including vegetable inks which are soy-based. Not only are these considered a lot gentler on the environment but are also known to produce vibrant, bright colours - often in a better manner than traditional inks. This option is considered a very suitable alternative to traditional inks for this reason.
Another alternative is water-based ink. It's consistency allows for an easy spread, allowing for great colour coverage. It's also not difficult to remove from paper when it comes time to recycle. Water-based ink also leaves a softer feel on paper and fabrics.
Lastly, ultraviolet (UV) inks, which come in liquid form and harden after exposure to UV light, are considered a much safer option. They contain zero harmful additives and don't release VOCs. There is one concern regarding UV inks which is the potentially high levels of energy consumption required for this process.
3. Eco-friendly manufacturing
Improved, modern technologies have also helped the upsurge of sustainable practices in the print industry. More environmentally friendly printers are available now than ever before and options to recycle cartridges, refurbishing parts, having energy saving options and more - many of which are both suitable for home use and commercial use. Modern print is also more efficient which reduces the amount of ink user per page, meaning you get more use out of each cartridge.
4. Reduced consumption of energy
Many print industry business owners are taking the extra steps to reduce their energy consumption through alternative, renewable energy sources. Sources such as solar and wind are some of the most popular alternatives.
While there is a long way to go on the journey to sustainability, taking some of the above options into consideration are examples of the progress made every day.
Grow your business through print advertising and marketing today - contact the team at your local Snap Centre.