Top 3 Branding Mistakes Small Businesses Make
Posted on 15 September 2021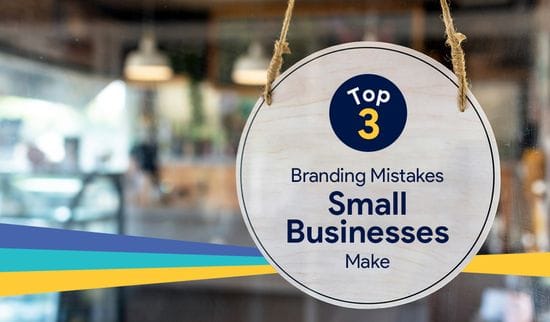 Small businesses are at an advantage in more ways than they realise. But these three mistakes can make the difference between a successful brand and one that can't get off the ground.
1. Forgetting to keep it consistent for your brand identity:
A person walks past a sign. How do they know it's a sign for your business? Brand consistency.
Brand consistency is how your business tells customers your values and your brand promise or mission.
The consistent part refers to your brand identity which includes your:
Messages

Language

Image/design choices
It also refers to your brand guidelines.
It's important when building your brand identity because it's what your customers will recognise when they see your ads.
2. Not focusing on visuals
As mentioned above, your brand identity relies heavily on visuals like images and design choices.
As you probably already know, the business world can be pretty competitive. A good way to stand out is to invest time in selecting the right logo and imagery for your business.
If a picture is worth a thousand words, your logo has got to be one of the most important features of branding your business.
How to choose or design your logo:
Knowing which logo to choose can be daunting. Especially if you want to maintain brand consistency because you shouldn't change your logo often or ever.
If you want advice on designing your logo or would like some quotes on creating the perfect logo for your small or medium business, read about Snap New Zealand's logo design and printing.
3. Not focusing on their target market
A lot of brands jump to the deep end too soon and start marketing their brand like a global entity. And with the abilities of the internet, it's pretty tempting to do so.
It's not always a bad idea, it's easy to sell products online and shipping costs are lower than ever before, but for a lot of small and local businesses in New Zealand, your location is what makes your brand distinct.
That's because, if you're selling locally made products - your number one fans are likely to be other locals that are looking to support their local economy.
The best way to appeal to this target market is to:
Use language that they will understand and relate to

Support or partner with other local businesses

Establish a physical presence within the local community
Some of the best ways to focus on your target market and appeal to local customers are to:
Print signage

Attend local events

Use business cards
Get started on establishing a physical presence by reading through some of our services.
In saying this, being rooted in the local community shouldn't restrict you from growing in the future. As your business grows, you might want to consider appealing to a wider market by widening your tactics.
Getting started:
To get started with building your brand consistency and identity,
visit a local Snap Centre near you
.