6 Print Products For Successful Branding Launches
Posted on 11 August 2020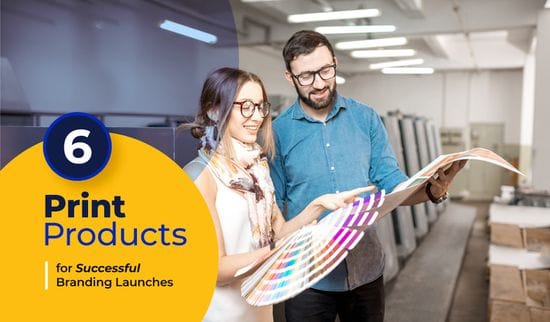 Launching a new brand is an exciting time and we know you want to make a great first impression. When it comes to attracting new clients or customers, you want to ensure your new branding strategy gets it right from the very beginning.
With customised print products, the launch of your new brand can create lasting, positive impressions on new clients.
Maybe you're thinking that personalised stationery isn't all that necessary, but the benefits to your business suggest otherwise.
What are the benefits of customised print products?
Generate interest at every point of the sales funnel.
Create greater brand exposure: Say you hand out customised stationery to a potential client and that potential client takes it to their workplace, loans a pen to a co-worker or has one of their clients use it to sign a document - that's another two potential people just in this short example who could be exposed to your brand.
Create familiarity: Over time, people will become accustomed to seeing your branding, creating a sense of familiarity and trust.
Adds to your professionalism: This goes without saying, but personalised stationery creates an aura of professionalism and expertise.
1. Business Cards
Business cards have existed for over 500 years and continue to be popular to this day. Their longevity can be explained by the simple notion that they're an effective tool for networking.
Sharing your contact details through a customised business card is a proven and successful way to make meaningful, long-lasting connections with potential clients.
The design of a business card can include graphics, high-end finishes, subtle sensory cues about your brand and varying paper stocks.
2. Signs & Posters
Customised signs and posters are a great way to attract attention through printed products but on a bigger scale.
At product or brand launch events, signs and posters can be used to grab the attention of attendees and pass on any relevant information in a quick and visually exciting manner.
They're also effective at promoting your services or products to anyone passing by - whether they're hanging in the window or your brick and mortar based business or decorating a billboard that has high-traffic go past, branded signs and posters can spread reach and ultimately help lead new customers to your business.
3. Brochures & Flyers
Brochures and flyers are a highly versatile print product, available in a variety of designs, shapes, forms and sizes - whatever you need to suit your branding relaunch, it can be personalised for you.
If you have branded "goodie bags" at a brand launch event, customised brochures with your business information and details inside is a great item to put in them.
They're also effective tools for introducing your brand at conferences and trade-shows, as the multi-page layout provides ample room to provide all necessary information and images to grab attention.
4. Letterheads
Much like business cards, letterheads help reinforce brand identity during interactions with potential clients or customers. They're useful for all official communications such as client correspondences, invoices, quotes or contracts.
Additionally, you can reduce the cost of printing letters as you won't have to print anything in colour once you have acquired personalised letterheads. With high-quality paper and professional finishes, what essentially was a simple paper item before can really make an impact when it's branded and customised.
5. Stationery & Promo Items
Branded stationery comes in all different shapes and sizes - don't just think pens (though these are incredibly effective), it's also possible to get USB's, magnets, stickers, calendars and notepads.
They're another compelling addition to any 'goodie bags' or small gifts to hand out at events, as well as great gifts for customers and your own staff.
Branded, high quality stationery, especially pens and pencils, are a great way to build an association between excellence and your brand. Each time someone goes to use one of your branded items, your business will be at the forefront of their minds.
6. Thank You Cards / Seasonal Cards
Show your clients they're appreciated with customised thank you cards or Christmas cards.
Did you hold a branding relaunch event? Thank those who attended with a thank you card - not only does this show your appreciation but it also keeps you in mind and hopefully reminds the client what a great time they had at your event.
Additionally, when an annual holiday is approaching, in particular Christmas, it's a nice gesture to send out personalised holiday cards to your clients thanking them for their loyalty throughout the year.
All cards come with high quality envelopes to really seal the deal on a nice gesture for your clients. You can also have all of your staff's signatures and an individualised message placed on the inside of the card!
Overall, customised stationery has a lot of benefits worth taking advantage of. Whether you're launching a new business, rebranding an existing one or are looking to attract new clients - your branded and customised products will give your business an competitive edge.
To get your stationery personalised today, contact the team at your local Snap New Zealand.