5 Simple Ways to Make Your Wedding Invitations Amazing
Posted on 19 August 2021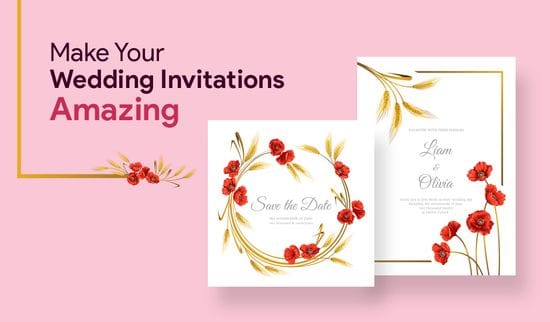 Be unique with a custom design
Anyone can google wedding invitations and order a few hundred of a premade design. Who can blame them? Some of the designs out there are amazing.
But, if you want your wedding to really stand out, wouldn't you want a one of a kind wedding invitation? Imagine sending your invites out only to hear that so and so used the exact same template last year…
Custom designed invitations are more affordable than ever and a lot of the time won't add up to much more than ordering a pre-designed invitation.
Here are some ideas for your custom wedding invitations:
A photo of you and your significant other

Pick a theme like:

Rainforest

Beach

Gatsby (get fancy!)

A photo of a favourite location that you and your partner share
Take a look at some more here.
Think about the material
Not to be technical, but there's a lot of different papers out there. Yep - there are options beyond your classic white sheets and cardboard.
The most common materials of invitations include:
Card

Cover stock

Wood-grain paper

Cotton fibre
When you choose your invitations, consider:
The ink you intend to use

The feel of the material

If you plan on embossing the writing on the invitations
Learn more about printing here or talk to us here about your materials to make your invitations stand out.
Add some humour!
Your wedding is going to be a fun and amazing experience for everyone. Why not set the mood now?
Think of the last wedding invitation you received, was it a bit formal? Did it seem like something the person sending it would actually say to you?
The people invited to your wedding are your family and your best friends in the world so why not be yourself.
The medium is the message (don't forget your envelope!)
Imagine you're opening your letterbox and there's a blank envelope with your name printed onto it. It could be anything right, even a bill!
When you send out your invitations and save-the-dates, you should consider what you're sending them in. Add another level of personalisation and customise your envelope!
When you purchase your envelope, think of the following:
The material

The colour

The stamp

The seal
Want to stand out from the crowd? Why not add a customised sticker to seal the envelope. You could print a custom sticker with your and your significant other's names or initials or even a photo of the two of you.
Got some more ideas? Talk to us today about printing your custom envelope and making your wedding invitations perfect.
Don't forget your save-the-dates
Wedding budgets can be pretty hard to meet once you start adding up all the costs. A lot of wedding planners wonder if save-the-dates are worth the money or if it's worth sending them at all.
The save-the-date card is a pre-invitation that will let your guests know that they can mark it off in their calendars. With the world's uncertainty, it's always a good idea to give people a lot of notice about important events like your wedding.
Let's not pretend that weddings aren't awesome to attend - give your guests something to look forward to and order your save-the-dates here.
Matching save-the-dates to your invitations:
Snap can print both your save-the-dates and your invitations so that they match not only visually but with the same materials. We can also help you customise them however you'd like, talk to us about creating your unique save-the-date today by clicking here and contacting your closest Snap Centre in Auckland and surrounds.
Bonus tip:
Here's a freebie (because you probably already know it).
Weddings are super stressful. There's a number of things you'll need to have ready before your special day.
Make your wedding planning easy by getting simple jobs like organising your invitations and save-the-dates out of the way early. Then you can get back to focusing on what you'll be wearing or whether you'll be booking a band or a DJ.
If you're in Auckland and you're looking for your wedding invitations and save-the-dates, get started today with Snap.
Take a look at creating your unique, customised save the dates online here.