5 Reasons Why Print Advertising Still Matters
Posted on 10 September 2020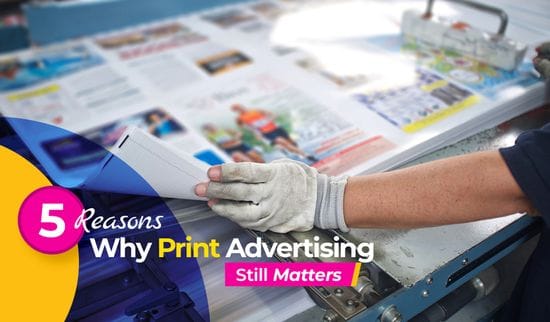 With digital continually growing and expanding in unprecedented ways, it's easy to think that traditional methods of advertising are no longer necessary in today's society. However, this isn't exactly the case.
The digital advertising market, while advantageous, is easy for a business to disappear in. With so many active advertisers in the digital space, it can be difficult to really stand out. That's where print comes in.
Here are 5 reasons why print advertising still matters:
1. It's not what people are expecting
Print became known as a bit of an outdated medium as digital grew to what we know it as today. However, despite being a more traditional advertising method, it doesn't mean it's completely irrelevant in a modern society.
The internet is a cluttered place and many users can find online marketing tactics to be a hindrance to what they're trying to do online. They click away, quit from pop ups or just straight up ignore online ads.
Utilising print advertising is a method that stands out amongst the crowd. In a world of overstuffed email inboxes, a branded print message or product can make a lasting impression. You can even have these personalised in order to really make an impact on your audience or client base.
2. Consumers find it more effective
Studies conducted through consumer surveys of 9,000 people have indicated that print advertising through catalogues and flyers have higher impacts on people's purchasing behaviour.
62% of those interviewed rated catalogues and flyers as the most effective advertising channel, ranking above television (52%).
29% of people indicated personalised direct print mail is more effective than email marketing.
3. Print performs significantly well in specific sectors
A study conducted by Roy Morgan, Australia's leading market research company, showed that print performed exceptionally well for some industries.
Print was ranked in top 3 media across all 28 industry categories
Print ranked 1 for clothing, alcohol, groceries and toys
Across all retail sectors, catalogues were the leading medium
If your business is in any of these markets, you could benefit particularly well from utilising these types of advertising methods if you're not already.
4. Print ignites the senses
In a digitally dominated world, advertising that engages all the senses has become rare. Most of us sit in front of a screen of sorts for a significant portion of the day, so exposure to advertising or communication from a business through a screen isn't an out of the ordinary experience.
Print also provides an experience that evokes more emotion than what can be done through the screen of a computer or mobile. The feel of a freshly glossed magazine or the smells of newly printed ink on a brochure create a physical and emotional connection that makes the experience between business and consumer more unique.
5. Builds trustworthiness around your brand
It's easy to put content onto a digital platform in an aim to gain trust over potential clients. With print content, you can help build authenticity and great credibility; with print, clients can feel something that is solid and real, just like your business.
Prove to your audience that you're more than just a screen - print advertising creates a more personal, real experience.
What types of print advertising can you do?
There's no doubt that digital marketing is an efficient and vital aspect of marketing for most businesses - consumers are always going to want to connect with businesses online and through email and there are certainly advantages in doing so. However, for those looking to gain an edge and to really stand out in the flooded online market, print is the way to go for all types and sizes of businesses!
Grow your business through print advertising and marketing today - contact the team at your local Snap centre.