5 Easy Steps To Streamline Your Print Order
Posted on 30 July 2020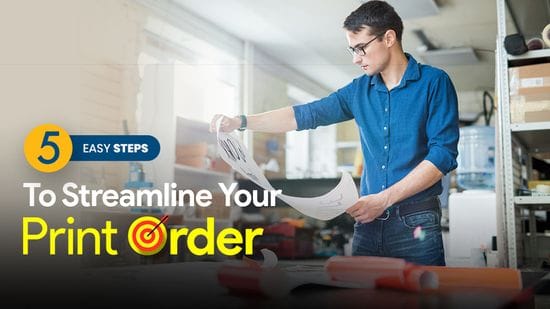 Trying to get your file printed just right is a tiring and frustrating process, especially if you have to go back and forth with your printer. With this in mind, we've got 5 easy steps you can take to streamline your print order, ensuring you get perfect results each time, taking the pain and hassle out of printing.
1. Use a graphic design service
Professional graphic designers get it - they know how to give your project the polished finishes, how to set up files for print to the right technical specifications, making the process simple. This is very much a solution to two problems at once, ensuring your job gets done without the added hassles of unnecessary changes.
Extra tip: using a printer in-house graphic design service makes it even easier for you. While designers take care of the design, the ordering process can be streamlined as well. The direct connection between graphic designer and printer means they can also provide recommendations on things like outputs, colours and available materials.
2. Have a style guide
Style guides help your designer keep all your design files in line with your branding. Providing your designer with important guidelines on how to use your logo, your brand colours and preferred fonts reduces the chances that you'll have to go back and forth to correct any branding/design misalignments. This is especially important if the task is urgent.
Additionally, a style guide helps you maintain visual consistency across any documents you print, boosting your brand awareness.
3. Prepare your file pre-printing
If you're doing the designs and pre-printing tasks yourself, having the file prepared for printing will make the process easier and faster. To get the best results, it's important to check your image resolutions and that the file size matches the print dimensions. This will ensure all aspects of your design and project make the final cut.
PDF file formats are the preferable option, however, you may also use other file types. When using other file types, packaging your design file to include links to images and fonts will help ensure the design comes out as planned when it's printed.
4. Decide on your finish
Choosing your finish is an exciting and important step in the printing process. In order to save time, it's helpful to research your finishing choices prior so you're ready to start the printing process. Many printers offer a range of finishes including the following:
Embossing and special print effects
Binding
Laminating
Folding
Personalised printing
Mounting
Direct mail fulfilment
Depending on the finishing you choose, these sometimes need to be accounted for during the design process, so it's important to know what finish you want during the set-up stage of your document.
5. Upload your file
Ordering online makes most things effortless and in this day and age, there's not many products or services that can't be ordered with ease online. The good news is, you can also simplify your printing order by uploading it online. It saves you time and eliminates the need for lots of phone calls or emails where miscommunication can take place with your printer. Find your nearest Snap Centre, and upload your file online to send to us for printing.
Overall, streamlining your printing orders is a simple process just by planning ahead and staying organised. Having a clear idea of your design elements and knowing what you need at the beginning of your project will help you enjoy a smoother ordering process when it's time to get printing.
If you want to streamline your printing, contact your local Snap Centre for more information and let us help you print your projects.